Emo haircuts have become
I think they will still have the full studio boxed in store, I don't fancy downloading 6 DVDs worth of FCS from the app store, although it would make updates very easy.

I very much hope they are coming out with boxed version with printed manuals. Downloading pro apps or suit of pro apps from App Store without physical media or real manuals makes no sense.
---
emo hairstyle boy: Cute Scene
AlBDamned
Aug 29, 12:08 PM
These groups don't care at all about the environment. They only want to hinder businesses.

Sure, I guess calling them the greenest company will really hinder Nokia's business - or indeed any of the companies that got rated near the top. :rolleyes:

The fact is this report says something which, as Apple fans, many of us don't like. However, if there was a comparable Lenovo forum, they'd all be saying the same thing –*"the report is rubbish"? Does it make it true? No.

What if Apple still came fourth from bottom, but Dell was third from bottom. Does that make the report more credible? No.

The fact that this report is gaining traction across multiple tech sites, not just MacRumors, plus the fact that Apple speedily responded proves that the issue is real. Did Apple reject outright the report's claims and say they are actually just as good as Nokia and whoever else? Did they come out and say, "greenpeace is b/s"? No. They said "we don't agree with the grading system used, it's not reflective of our other efforts" or some such politician-esque answer.

It could just as easily have been Apple at the top if they were up to scratch with regard to the materials used in their products, then you same critics would be loving the report. For example, if tomorrow Greenpeace ran a report on the grading of tech company recycling programs and put Apple at the top, what would that say? That Apple was good in one area and bad in another so they need to do more.

Stop being fickle and naive and understand the bigger picture. :rolleyes:
---
Emo and Scene Hairstyles 2011
Multimedia
Oct 11, 02:44 AM
Morning all,

Two things. Guesstimates on release of quad-core Mac Pros (time to upgrade here). And MultiMedia, how do you like the Dell 24" LCDs?

BIf Apple wants to be aggressive, it will happen next month. But if they don't, it could be as late as January. I am sitting on a large pile of cash to buy one the day they are added to the configure page. Love the Dell Screens. They have refurbished 30" models for $1349 now. :eek: :)

I know no one here likes to read my stories of inadequate power, but even with the Quad G5 and that cheap 2GHz Dual Core G5 I picked up at Fry's, I still have to put my Multi-Threaded Workload into a Queue that all runs much slower than it will with 8 cores. I am very excited about the Dual Clovertown Mac Pro.
---
Medium emo scene hairstyles
Yea, this is one of the few controversial posts I've made here, I expected some criticism, and likely deserve it as I definitely don't get the whole picture, then again who does.

I'm not saying oil isn't a HUGE problem, or rebutting some of the good points here.

When a nuclear disaster happens hundreds of thousands of people can die, if unleashed in war it could be the end of the world, plus accidents, human error, countries letting power plants age and neglect updates not because they can't afford it but instead because they want the incredible profits from it.

It's not good, I'll never be convinced otherwise. Look at countries like Denmark and the rest of Scandinavia how well they manage their power, the research, alternative (green) energy sources in play and working NOW ... it's incredible and goes unnoticed.

There is better ways.

NO nuclear.

You know, I really don't think a lot of the people in this thread "get it" so-to-speak.

Japan has 130 million people, in a space 10,000 square miles SMALLER than California, and is an archipelago. 85% of that are sparsely populated mountainous regions, so do the math to realize what a premium we have on space here and try to understand that we need the absolute maximum power for the space and resources we have, which is why we get a third of our power from nuclear sources.

What do you think, we have unlimited resources and space to use bogus green energy methods? Everyone talks about green energy this, green energy that, but nobody seems to grasp that green energy methods are horrendously inefficient, unrealistically and unsustainably so; if they were so good, don't you think we'd have our fossil fuel crisis solved?

As an example, solar power's MAXIMUM efficiency is a pathetic 12%, and that's before you even think about it's asinine cost, or the asinine amount of square footage you need to even get a tiny amount of power.

Wind isn't much better, at a maximum of 30% efficiency, and that's when the wind is blowing over 30 mph.

Neither of these are feasible, nor realistic for Japan.

Guys, we have nuclear power here out of necessity. Maybe that's difficult for you guys to grasp, but with 130 million people in a place smaller than California, most of which is mountains, we need power that's efficient. I don't understand why this is so hard to understand.

Nuclear is a result of circumstance here, and up until now has had a flawless record.

By the way, lowly natural gas has a 10x higher fatality rate than nuclear, but I don't see anyone fearing natural gas.

edit: I don't mean to harp on you specifically, entlarg, I'm just tired of seeing post after post in this thread from people that don't seem to understand that at least here, we don't have a choice but to use nuclear power.
---
scene hairstyles
edifyingGerbil
Apr 22, 08:26 PM
There is no reason to imagine that god does exist, one doesn't need to provide a reason for not believing in god.

Can you provide me an argument for why you don't believe in witches or Santa?

Yes, because witches and santa exist in space and time, God does not so rules which apply to people who live in space and time do not apply to God. It's physically impossible for santa to exist. Witches do exist, the Romanian parliament recently passed a law which said witches must pay taxes.

That's why God knows what's going to happen in the future but we still have free-will, because if you exist outside of time you can see everything that's going to happen or has happened because it's already happened.
---
emo hairstyles scene.
I don't get the "imovie pro" comments. From the announcement, does it look like functionality is removed? What specifically would make this new version less pro than the previous.

Color lets you make absurdly complex adjustments to a scene like a hollywood colorist-- in realtime-- 16 effective secondaries.. This has nothing like that.

And why are you assuming that FC doesn't include all that functionality, or that Color is no longer included? They didn't talk about the rest of the suite, but for a software package two months from release, it seems just as likely that the rest of the suite is still there but they just didn't want to talk about them yet. Or did they actually say that it's just one app now instead of a suite?

As a Logic user, I'm very interested to see if Soundtrack Pro is updated. It has a ton of potential but it has always been in horrible shape. Apple could kill it (and just beef up the audio in FC, but that seems like a bad strategy) or they could finally give it the attention it needs and finally make it an audio post app that can compete with Pro Tools. Hopefully Apple will have more info soon, will STP get an update, and if so will that update be available to Logic users (or will we have to wait until Logic X ships)?
---
Emo Scene hairstyles
The Quadro in the WMCE really puts up a superb 1080p picture - not sure that I'd want to compress the signal and send it over wireless...

Technically you're not compressing the signal. Just the file (which will be cached if the network can't cope). The signal is produced locally.
---
Scene Hairstyles is it
If I thought it was Relevant to mention the people, I would have.

Steve Wozniak co founded Apple. His inventions and machines are credited with contributing significantly to the personal computer revolution of the 1970s. Indeed, he created the Apple I and Apple II. The latter gained so much popularity it eventually became one of the best selling personal computers of the 1970s and early 1980s.

But, and here's the important point, he's nothing to do with the daily running of Apple now and has contributed virtually nothing since the early days. Yet Apple, in it's second phase with Steve Jobs in charge, is redefining mobile phones - totally without Woz playing any part in the lineage that made it possible.

Andy Rubin has also founded a company. But his history is that of a man who's come up with some possibly badly timed and poorly executed ideas, and partnered with the same haphazard wisdom. He also possesses more of an employee mentality, than a visionary to whom money is attracted.

It has to be remembered that Ubuntu [that other example of open source OS 'success'] is the only 'flavour' of the computer operating system based on the Debian Linux distribution to have broken out of the geek domain into the wider market. And this is as a result of Mark Shuttleworth's patronage. Therefore, Google are to Android as Shuttleworth is to Ubuntu - patrons. This isn't how business works. This isn't how businesses make money.

When I speak of lineage, I do so with some degree of authority and experience. The old 'Deep Throat' quote: "Follow the money" embodies wisdom that seems to have escaped you, yet it's true of everything from enterprise to terrorism.

What we have with the iPhone is a genuinely useful, definable lineage that can be accurately tracked in retrospect, as well as predicted to a certain extent in terms of future performance. But don't worry, you're not alone in not recognising that. Sir Alan Sugar made the same mistake of underestimating the iPod back in as did Steve Ballmer with the iPhone, and the whole of Wall Street did with Apple.

However, we are now in the middle of Apple's iPhone play. [Not literally, but figuratively]. And this play is very very well planned, conceived and directed. So much so in fact that I can see elements of Chinese military strategy at the heart of it. [But that's a discussion for another day].

In contrast, the Android project is like a flotilla of hopeful, yet dubiously piloted little boats, setting out on what they all seem to believe is the same journey, but by the best will in the world, can't possibly be. Not only are there too many interests that need to be served, there are far too many opportunities for the 'fleet' to loose contact with each other and their market, make no money, and eventually break up.

You say: "It's very likely to happen." re numbers of Android developers and apps etc. Sure, while the water looks good, phone makers have little to lose in pushing handset to run Android, and several will, inevitably, immediately diluting any potential gain for individual manufacturers. But as soon as interest wanes, users will find lines being dropped players will drop out of the game, and support will disappear.

So, even though the Android may well be, or is possibly, EVENTUALLY capable of being, as good a mobile operating system as Apple's iPhone OS is NOW, [albeit one developed by an un-monetised network], without the benefit of what Apple brings to the party, in terms of a single identifiable and desirable hardware solution, it's not a credible alternative. It certainly isn't ever going to be a game changer.

And don't forget, we've all been buying phones from these other players for years, and found them all wanting in a vast variety of ways, no matter how varied the choice of form factors and functionality.

Finally, psychologically this choice actually proves to be an enormous negative, as is always the case. More is not less. Fewer choices actually make choosing easier. So why are people betting on the opposite to what experience tells us is true?


Your knowledge of mobile history is a bit lacking.

Good ideas come from people, not companies. Both devices have long personal histories, even though the current iPhone and Android devices only started in mid 2005.

Android was begat by Andy Rubin, who worked at Apple in 1989, then was a major player in Magic Cap (http://en.wikipedia.org/wiki/Magic_Cap), WebTV, and Danger. So there's long experience behind both iPhone and Android teams.



It's very likely to happen.

As for quoting raw numbers, they're not always useful. There's been over three quarters of a million downloads of the Android SDK. Doesn't mean that many are working on it actively. Similarly, many of those so-called "iPhone developers" are regular users who bought memberships to get beta access.

Don't get me started on the "85,000" apps. Tens of thousands are poor duplicates. That goes for all platforms:

Sometimes I wonder how many really unique apps there can be, not just variations. Someone should do a study on the topic. Would be interesting. Must be in the low thousands, if any that many.
---
Long Blonde Emo Haircuts.
If the media shouldn't project a positive message about being gay, then they shouldn't project a positive message about being straight. No more kissing on TV, film, etc. Ban all public displays of affection and don't say a word about issues that someone might take 'offence' to. Yeah...that sounds like a great world. I hope you go there someday.

I think you have slightly misread my post or replied to the wrong post.
I most certainly did not say the media shouldn't project a positive message about being gay.

;)
---
Emo Hair Styles With Best
chaoticbear
Apr 12, 10:39 AM
I don't care for the difficulty involved in sharing files across OS X/Windows/Linux, but that's hardly the fault of the Mac.

Other nags:
-Requiring 3rd-party software to stay awake when closed
-The terrible built-in webcam (at least where Photo Booth is concerned, I've actually been pretty satisfied with iChat)
The hilarious hillarious way that iTunes and iPhones work. It's the same way on Windows, but I think they sacrificed function for increased integration.
---
Emo Scene Hairstyle.
mac jones
Mar 12, 04:49 AM
Wirelessly posted (Mozilla/5.0 (iPhone; U; CPU iPhone OS 4_1 like Mac OS X; en-us) AppleWebKit/532.9 (KHTML, like Gecko) Version/4.0.5 Mobile/8B117 Safari/6531.22.7)

Common sense would tell you the reactor itself didn't explode some 4 hours ago.

Don't you think if that had been the case the headlines would be everywhere? Considering it would trigger large government response and evacuations, it wouldn't exactly be easy to hide, and given how the media jumps at any bone any source throws them just to be first rather than accurate should show that it wasn't the reactor itself because all they are reporting is an unknown explosion. These plants aren't exactly simple, "Here's the gate, there's the reactor." They are very complex, large facilities with many many parts.

Something exploded at the complex facility, but it wasn't the reactor.

Not gonna bother replying to the rest at this point being I'm on a phone.

You sure about this? I hope your right.
---
Perfect Scene Girls Hairstyles
And as long as humans are in charge of designing, building, and maintaining them, there will be errors.

I think part of the problem may have to do with the fact that the plants are designed by engineers. Engineers' focus is elegance: accomplishing the most in the most minimalist way. Nuclear power plants need much less minimalism and elegance than just about anything else humans can make, but costs and other limitations tend to guide the design toward what engineers are best at. Redundancy and over-building are desirable, I believe we end up with too much elegance instead.
---
Styling Scene Haircuts
Traditional light water fission? No, I'm generally against it.

Modern reactors that process spent fuel and thorium cycle reactors? Hell yes.

Writing off nuclear in all it's forms is like writing off the future of the human race, we just need to go for sensible safe reactor designs and hopefully develop fusion to the point of being a practical solution.

The vast majority of nuclear power plants are designed to produce weapons grade plutonium and uranium, these designs are neither particularly safe or efficient and there are far far better options.
---
Photos Emo Hairstyle With
Is anybody actually bothering to do this in the wild against any OS?

The types of attacks you are referring to are not occurring in the wild on a massive scale. When was the last time you heard about one in the media?

Again, look, if you're not interested in the mechanics, that's fine. Stop replying to me.

My post is inquiring about the mechanics. For the past hour, I've been trying to find how this thing ticks by searching around for in-depth articles (none to find, everyone just points to Intego's brief overview that is seriously lacking in details) or for the archive itself.

If you don't want to take this discussion to the technical level I am trying to take it, just don't participate.

At the moment, there is no way to prevent the kinds of attacks you are referring to on any OS if a vulnerability exists that allows the attacker to exploit a running application.

I don't know of any other Web browser (this is not a OS problem, it's a Safari problem). that automatically assumes executables are safe and thus should be auto-executed.

Webkit2 will reduce access to user space when Safari (or any app using webkit2) is exploited by restricting the privileges of apps on a per app basis.

What does Webkit2 have anything to do with running an installer on the OS after downloading it ? That happens outside the rendering engine's sandbox. You're not quite understanding what this sandbox does if you think this protects you against these types of attacks.

Turn off "Open safe files after downloading" if you are worried about that type of attack implemented via "safe" files.

I think you missed the part where I don't use Safari. I'm pretty far away from allowing it to "auto-run" "safe" files (I choose what I want to run).

Again munkery, I appreciate you taking the time to respond, but I'm not some noob user. You are not answering my inquiries nor helping any here at the level I want to discuss this. I get everything you are saying. I've been getting that level for quite a few years. I'm trying to discuss at another level here. Do you want to participate or not at a higher level where we discuss the actual mechanics of this rather than just starring at the tip of the iceberg ?
---
emo hairstyles for short hair
Hey, I watch the Food Network! Iron Chef rocks and Rachael Ray is a kitchen fox! Are those on the iTS?

-Clive
No. :(
---
emo hairstyles for girls with
PhantomPumpkin
Apr 21, 08:42 AM
Any links for that claim?

Also, Apple doesn't make the charts; I don't get how it's strange to compare a platform to another platform. I think it's stranger to compare a single device to an entire platform.

Simple. Comparing Phone to Phone, may show an Android "win". Comparing All Android devices to IOS devices would not show the same win, as the tablet market is still currently dominated by IOS. Why on earth would they want to show something that makes "their side" look bad?
---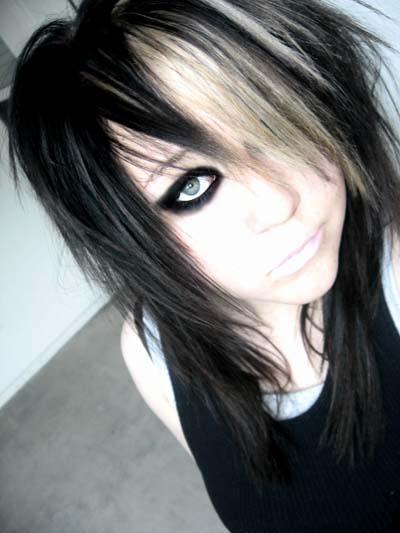 emo hairstyles scene.
Danger! Will
Apr 15, 11:26 AM
Thank you apple...
---
emo hairstyles for girls with
I bet I could peg all 8 cores doing a 3D render...easily.

Bring them I say. This may make me hold off on my render farm idea.

-mark


I'm already doing 6 cpu renders. Why stop at 8, I'll take 16 :D
---
Blonde Emo Hairstyles.1
Is there any advantage or disadvantage (other than future expandability) to getting to 4GB of memory by using 8x512MB versus using 4x1GB?
---
Now that Android is coming to Verizon (http://forums.macrumors.com/showthread.php?t=798678) and they will be collaborating on handsets, I have no doubt Android will surpass the iPhone in terms of user numbers. Will it surpass in quality? That remains to be seen...
---
Macaddicttt
Mar 18, 02:35 PM
Anyone care to make this interesting? I'm taking all bets. How long until Apple fixes the problem?
---
- They've indirectly caused the deaths of thousands of starving Africans by preventing the development of genetically-engineered foods.

That by far the stupidest thing, I have read in a very long time. It's plain absurd.
---
I believe nobody is abusing the system; instead, it's the system -unlimited, 2GB, 4Gb, whatever- that is unable to cope with the different needs. As AT&T can monitor the usage of the databand, just give us a plan where we pay based in usage, for example $5 for each block of 1GB, and be done with it!


That seems like the best and most fair system for users and the company. Pay for what you use. Of course the company makes a lot more profit by overselling plans and hoping people underuse the minutes and/or data.

As for the unlimited plan I'm sure they can phase out the grandfathering, they can choose not to renew your 2-year contract and force you to sign a new one. They just don't want to risk losing a customer for now, but then again where else can you go; Verizon said they will be dropping the unlimited soon as well.

The contracts are technically legal but at the same time probably the whole exclusivity is against some kind of monopoly law that is rarely enforced. Verizon hasn't affected pricing, so there is really no competition if you want an iPhone. Maybe if it was offered with every carrier. If we had some government regulation and oversight and a national based cell phone tower infrastructure we wouldn't be so far behind other advanced countries and be able to offer the iPhone on all carriers. Also I'd rather pay unsubsidized price and do what I want with it.
---
November or December at the latest. It will simply be a Dual Clovertown Processor option added to the current BTO page with a new processor pricing lineup. It will be a silent upgrade.

How do you know this for a fact? :confused:
---