funny pokemon video!
I think they missed the bomb in her hair. Why not do an X-RAY as well? God, what stupidity!
---
Tags: comic, funny, pokemon,
Rodimus Prime
Oct 6, 05:47 PM
My original iPhone was not subsidized and I had to buy it at full price. I chose the device with no qualms about what network I was required to use.

While the iPhone is now subsidized, so are many other phones on many other networks. If only certain networks were doing this to add value to choosing their contracts, I could understand your point of choosing the network before the device. Maybe I'm missing something but I don't understand how this changes my argument that the service is just a commodity while the device is the consumer's primary choice.

I think the biggest problem is when Apple had the chance to change the game by not doing subizided cost they instead give in and just make it worse by forcing a much larger than average subsudize on there phone ($400 vs $250).

Unlock phones puts the network and the phone separete. But as long as it is lock in together it should be choose network first

i get what your sayin, but nah, they can still complain all they want... i dont think it says in the contract be expected to have 30% dropped calls.

people complain not only to relieve themselves, but to eventually get whats right. (complaining on macrumors isnt exactly the best way of going about it, ill give you that)

Well the people who choose the iPhone knowing service are spotty put the label on them as not smart.
Smart people look things over and choose what works best for them. For me I know service is the first thing I look at and that is how I got to ATT (Cingular at the time )for my phone and dump Verizon. Verizon service was crap where I was 6 months out of the year. Sprint and Cingular/ATT were king in that area. I used Sprint for a while and it was great. Switch to ATT because most of my friends and family were on it so M2M.

Either way I choose the service first then pick out the phones from there.
---
/Funny/demoposters/pokemon
I see where you going wlh99, and don't worry.. my full intention is to learn, not to get code from all of you. Many people in this thread underestimate my knowledge of objective C (and I understand why, I got lost with the pointers). I have 2 1/2 months since I started development and had 0 idea of the language or programming (I was a Pastry Chef actually :D, which is the name of my first app).

Believe me when I tell you that I know what's going on with my code. I'm aware that If you release an object that it doesn't exist you'll get an exception every time.

Making it work is a lot less important than knowing how to do it, for future work.

Back to the Code, let me go give it try.. b-back


UPDATE**

Ok, it doesn't crash now but timer still won't restart. I'm going to create another timer object (not pointer, I'll use the same pointer). I get this idea that I can't reuse or reset the same timer over again (invalidating and releasing it only pauses the timer). Wish me luck :)

Good luck.

Post your echoIt: method. If you are displaying elapsed seconds or something, the code to calculate and display that might be your issue.
---
Not Really Into Pokemon.png
snberk103
Apr 13, 12:03 PM
I would prefer the cheaper and more effective way; profiling.

Also, you can't say security has been working well-- look at the number of incidences of things going through security accidentally via negligence (knives, guns, etc)-- while there's no official numbers, the anecdotal evidence is quite moving.

Actually, there is documented evidence (which I'm not going to look up, because it supports your contention). The TSA does publish numbers (though buried deep in their reports) on the number of times undercover agents are able to slip weapons through security on training/testing runs. The number is quite high, if you look at it in a "Sky is falling way". But that is the incomplete picture.

Suppose, just for argument's sake, you actually have a 50/50 chance of slipping something through security. Is that "good enough" to mount an operation? Consider that there are at least a dozen people involved, to support just one operative. You can try to separate them into cells - but that doesn't mean that they are entirely hidden... it just gives them time to try to escape while their links are followed. Plus, there is a lot of money involved.

Do you risk those 12 people, plus a large chunk of scarce resources, on a venture that only has a 50/50 chance of getting something onto the plane. (we haven't even considered that most bombs on planes lately have not gone off properly, eg. shoe bomber and underwear bomber)... or that if the intent is to forcibly take over the plane there might be sky marshall - or just a plane load of passengers who are not going to sit idly by.

So you try and reduce that risk by making the plan more "fool proof" and sophisticated - but this adds complexity ...and complex things/plans breakdown and require more resources and more people. More people means adding people with doubts, and the chances of leaking. Plus more resources, which brings attention to the operation. And as you add more people and resources, the "downside" to being caught gets bigger, so you try to reduce that risk by making it even more "foolproof".

If you are one of the 12+ people supporting the operative, and you have a 50/50 chance of being caught and spending a very long and nasty session in jail - even before you get your day in court - and you have no chance of the "ultimate reward" .... don't you think you might start having doubts, and talking to people? Sometimes the wrong people?

I don't buy for a minute all of the stories of traffic cops stopping a car for a routine check and finding "bad things" that were going to be used. The intelligence services have, imho, a pretty good idea of what is happening in these groups, and use these innocent looking traffic stops (and other coincidental discoveries) so that their undercover agents aren't suspected.

That is the value, imo, of the security checks. The barriers are are high enough to get the "bad" operations big and cumbersome, and to make the plans too complex to escape notice by the authorities. It's the planning and organization of getting past the security checks that the authorities are looking for. Once that "bad thing" is in the airport, the authorities have already lost most of the game. Then the security screening is just a last ditch attempt to catch something.

The real danger is the single lone-wolf person with a grudge, who hasn't planned in advance, and doesn't really care if they get caught. They have a 50/50 chance of getting through because the only security layer at that point is the security checkpoint. The intelligence services will not have picked them up, nor will the no-fly list incidentally.

.... all of this is just mho, of course..... read the later john lecarre though, for more chilling details....
---
more...
funny pokemon pictures.
SevenInchScrew
Nov 14, 02:30 AM
A few things...
1 - The AK74u is the best gun in the game, in my opinion. With the Grip and Rapid Fire attachments, it feels like cheating. The Galil is a close second. Both guns are totally amazing.
2 - "Hardline Pro" is the best perk, hands down. Use that, and then set your Kill Streaks to "SAM Turret", "Care Package", and "Sentry Gun". Every time you get a package drop with Hardline Pro, you can double-tap X and swap it out. More often than not, you'll get something good.
3 - The second best is "Hacker Pro". It doesn't happen much, but booby-trapping an enemy care package is most excellent. The standard benefit of seeing enemy equipment is nice as well.
4 - The spawns in this game are downright shameful... and that is putting it lightly. If they aren't fixed with the first update, this game can go to hell. Soooo farking pitiful.
5 - Nuketown, combined with the aforementioned assy spawns, might be the worst thing I've ever experienced in a game. The map is a total mess, made even worse when the enemy spawns on top of you, or behind you, all the time. Not fun. I don't even mess with it now. If it shows up, I quit out. Not worth the hassle.
My current go-to setup....
RE: The Most Funny Pokemon
NebulaClash
May 4, 08:56 AM
Finally... They realized the word "Magic" is childish.

"Magic" appeals to children as well as those of us who can still look at the world in child-like wonder. That's a gift, not a curse, and I'm glad Apple still markets the iPad as magical. It is.
---
more...
funny pokemon pictures. funny
7o7munoz7o7
Dec 13, 05:01 PM
I'm getting really tired of reading "iPhone on Verizon 4G after Christmas!" rumors on here. WHy is it that every time someone says "Oh, I've heard the iPhone's coming to Verizon in January," MacRumors puts it on the front page or Page 2? Are enough people so totally obsessed with the iPhone, they pee their pants if they don't hear a Verizon iPhone rumor every day/every other day?

Yes.
---
pokemon items. super funny
thequicksilver
Jan 5, 07:48 PM
If it was live you wouldnt get all the split screen editing etc. It would be quite a linear and boring presentation.

Editing the feed can give emphasis to certain aspects and also cut out anything that goes wrong.

Believe it or not this isn't the case. I was at the Paris Expo in 2004 sat directly behind the video editing booth in the middle of the hall with a clear view of the editor's screen. The split screens and the like were prepared one slide in advance and all was done as it went along.

I was one of the first few outside of Apple to see the new iMac G5, about 30 seconds in front of everyone else. :)
---
more...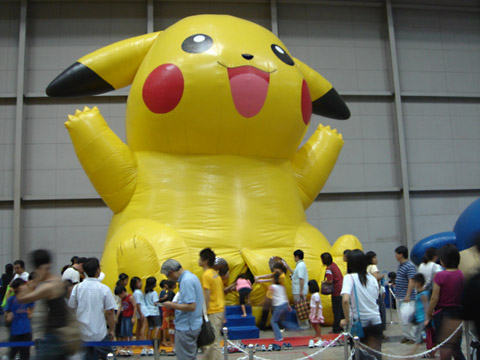 Pokémon Make Child Happy.
Cool i prefer to see the introduction gives it the wow factor rather than the mild excitment of reading the keynote.
---
funny pokemon comics. post
I agree.

Well, in this case, many hospitals require you to have a car seat on hand before you drive your newborn home. So, there is some input from doctors based on a public health perspective. And, frankly, it's a good thing.

Yes, I noted the variability of the argument in an earlier post. You distilled it down nicely. There are overtones though regarding the role of government in controlling what doctors can and can't do that I find distasteful in both situations while, as you pointed out, others seem ok with in some.



"There is nothing wrong with a doctor talking to anyone about guns, as they can be a risk to health."

True, if at the bar in the country club among friends, or at a session of shooting skeet. I've taught a couple of doctors about guns, and freely admit to knowing them. Doctors can be okay people, although some are socially unacceptable IMO.

But otherwise it's exactly like asking someone how much money they have in the bank. You don't ask a farmer how many acres he owns--which is the same thing. Nor ask a rancher how many head of cattle he runs. Rude, discourteous and just plain ignorant.

Rude, discourteous and just plain ignorant is assaying pretty high-grade in today's society--but it's still stupidity at its finest.

A doctor has no way of knowing the circumstances of somebody's homelife--and since there are tens of millions of homes I submit that there is no "One size fits all" to allow some outsider's judgement. He is no expert on firearms use or safety, absent being a "gunny" himself.

It's nobody's business how much of what that I own or how much money I have. Ah, well, nothing's really new among idiots. Hank Williams sang about it over sixty years ago: "If you mind your own business, then you won't be minding mine; if you mind your own business you'll stay busy all the time."

Didn't know things were so different down in Texas, but here in Iowa it's not rude to ask a farmer how many acres they have nor how many cattle they run. My family farm has both, and we get those questions all the time. Not a big deal. That being said, if my doctor asked me if I had guns, and how many, in the course of a checkup, my response would be... "Why? Why in the world do you want to know that?" If he said so that he could calculate risk and provide suggestions in that regard, I'd tell him to kindly mind his own business and I'd tend to the safety of my own family. If he was a jerk about it, I'd get a new doctor... plain and simple. The government shouldn't be involved at all in telling him what he can and can't ask... it's a free country. Likewise, if that same doctor asked me what my religion was, I answered Lutheran, to which he replied that he could no longer provide me services as he only did business with straight atheists, I would be totally ok with that as well. His choice. If it was life and death, and he let me die when no other alternatives were available, then it'd be a prosecutable offense having nothing to do with religion.
---
more...
funny pokemon: funny pokemon |
oh really? thats frustrating!! what soft of temps do they sit at? are you sure you have cranked enough voltage into them?

the temps haven't been that high (70C or under). i have changed the voltages, but maybe not enough. that's one of those things you have to play with.

but it looks like 2 of my rigs are down now. i might be driving back to fix them tomorrow night i guess. i'll put both of them back to 3.5 ghz and hopefully they'll stay stable.

my asus has been rock solid compared to the other 2 though. staying at 3.5-3.6 ghz
---
funny pics and cheats!
Stop being such asses and realise that proprietary DRM on music, video, pictures or digital books is a really, really, ridiculously stupid thing for consumers and society. I'd rather have no DRM, but if we have to, let's make it something that everyone can use.

Also... this isn't being driven entirely by Apple. The content owners are as much, if not more to blame. We all need to start speaking up about this or we're going to REALLY regret it in a few year's time.That's just wrong on so many levels. I wish I had more time...
I dare you to try and argue against those points. Trust me, I've spent long enough in the music industry and observed all the DRM and copy protection stuff that's been happening since... well... a very long time (since DAT days etc).

#1 "proprietary DRM on music, video, pictures or digital books is a really, really, ridiculously stupid thing" -- So you don't want to have free interchange on products you own with content you've bought a license to play? I'm not saying we have a legal right to play the content where we like, I'm saying we SHOULD.

#2 "I'd rather have no DRM, but if we have to, let's make it something that everyone can use." -- I think it'd be much better to have one DRM model for all. The idea of heaps of different online stores all selling music that only works with one or two devices is just insane. And if you think that wouldn't work because it'd be cracked... well, every DRM model can and will be cracked in time. They all suffer that flaw.

#3 "Also... this isn't being driven entirely by Apple. The content owners are as much, if not more to blame." -- The DRM is there because labels want it, not because Apple does. Period. Don't even bother arguing about that one.

#4 "We all need to start speaking up about this or we're going to REALLY regret it in a few year's time." -- CDs won't be around forever. So what are we going to do when DRMed files are the ONLY choice? That's not an option I like to think about. We need to fight this right now or be in a whole lot of trouble.

Honestly, there's really not really a sane way to argue that proprietary DRM is good for consumers. There's quite a few ways to argue that it's morally not a good thing for society. There's also a few ways to argue that it breaches fair trading practices.
---
more...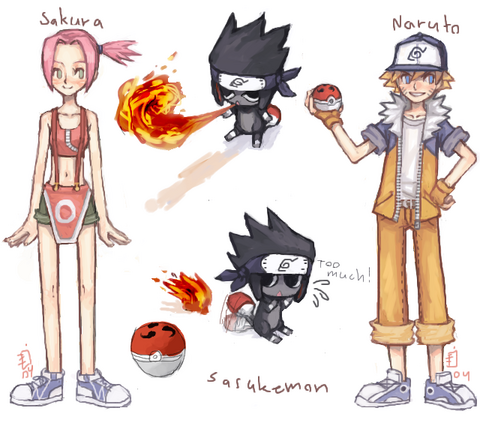 naruto_pokemon2.png funny
As others have said, it may have been funny for one time on the big wall of TVs. Definitely not at a live presentation.
---
photos of funny pokemon,
Interesting how none of the scenes in the ad uses a white iPad.

Cool story bro!
---
more...
Pokemon Cartoon Character
Back when I was about 8, we were jacked. However it was our house and the house next to us. We lost all of our console GAMES, the system still there. The other house lost their console SYSTEM, the games still there. Its nice to know that the world has not changed 10 years later.

No one said all criminals are smart.
---
Sure Hornaday won the title in
You seem to have missed the "... MORE than iPhone 3gs" part.

A better antenna should drop FEWER calls (unless there's a flaw)

Yeah but none of us know what that number is. It could be a full 1/100 for all we know. 2-5% is still pretty good. There will NEVER be a phone that never drops a call, ever. We also don't know other manufacturers ratio. There's probably a reason why they don't give that information.
---
more...
funny coloring pages. pokemon
chrono1081
Apr 5, 04:23 PM
anyone that would download this app is a complete moron

Not really. You know this app is more for people interested in creating iAds right? This way they can see what is possible to be done and create their own. Think of it like when you go to the paint store and they have swatches for you to look at. Its kind of the same thing.
---
funny pokemon pictures.
lol at those "u signed the contract" blablabla, its not like u have a choice, it should be left out from the damn contract u sign from begin with just like here in germany :D
---
funny pokemon comics.
Xmas 2007 maybe :rolleyes:
No that will probably the the MBP with merom chips lol
---
BlueRevolution
Oct 28, 02:36 PM
That's hardly surprising. I'm more interested in the 100% legal bit - it's interesting that Apple hasn't yet moved to explicitly ban running OS X on non-Apple hardware.
---
I wonder if this is net neutrality (http://en.wikipedia.org/wiki/Network_neutrality) rearing its head again? Didn't Google jump ship and join the networks in opposing the FCC?
---
When I first saw OSX I was blown away :D and looking though my geek pics found a screen shot from my G4 Cube in cannot remember if the screenshot from 2001 was 10.0 or 10.1 as that cube came with OS9 and had them both 10 beta and 10.1 installed, anyway though I would share a screenshot of my desktop now and then then :D

p.s.

Can anyone remember the name of the iTunes player in the pic from 2001? it had LOADS of skins and the particular one in the pic! used to sink into the desktop when you clicked the screen or on another program, does anyone know if they brought it back to life? I miss that player SOOOOO MUCHHHHH :(


Funny to see that the Screen icon has not changed!!! since 10 / 10.6 hahha, at-least in 10.7 they have finally changed it to reflect the actual screens on sale.
---
krestfallen
Oct 17, 09:55 AM
So why not just use an external HD?

because this can die easily. should we buy 5 external hd's to backup the backup disk of the backup disk? no. 3 or 4 hd's i owned died since the last 10 years or so. i think it's too risky.
---
bigbro1096
Apr 25, 06:11 PM
Well, I have kept $200 in my savings account since Christmas and that's pretty much a feat in it's self. Anyways, I really need the iPhone 4S/5 to be released at WWDC and be some nice updates otherwise I'm going to be upset. I've had every iPhone since the 3G and each was released at WWDC so I don't know why they'll start now.
---