detail of mermaid tattoo
http://img139.imageshack.us/img139/5021/45215898.jpg

A link to the original please :)
---
of mermaid tattoos.
Lesser Evets
Mar 31, 10:17 AM
Excellent. I was waiting for photoshop on an iPad. Even if not yet released, they are getting there. Another 2 or 3 years and the iPad will be able to do 99% of everything I use my current Mac for.
---
Mermaid Tattoo Designs
there is still lotus notes? unbelievable. i know people use it. but i thought they are still using the outdated version.

A friend of mine who works at IBM grouses about having to use Lotus Notes. I didn't imagine anyone used it that didn't have to.

Maybe it's just IBM and Grant Thornton.;)
---
Mermaid Tattoo Design For
Please can you clarify your statement about the lack of potential donors?
You already have a few members in this thread who said they're not eligible.
---
more...
Asia tattoos-Mermaid tattoo
creator2456
Apr 4, 07:36 AM
I finally took the time to somewhat clean my desktop in order to take this screenshot. Still way too many folders for how I like, but I consolidated nearly 60% and got them in a single column!

Left-field upper deck of Wrigley Field from right-center. Obviously edited. Pretty sure I have posted it before at some point, but it's baseball season again.
---
mermaid tattoos projects
Apple is using boobs to sell e-mail! Pass it on!

that's really childish. the REAL question is who took the picture? they're on their honeymoon, for gosh sakes: and they took a friend?
---
more...
Asia tattoos-Mermaid tattoo
Checked my data usage while I was there and I'm so glad I'm grandfathered in!
http://dl.dropbox.com/u/493625/Do%20Not%20Delete/Data%20Usage.png

Holy Torrent Batman, that is a lot of data.
---
Tattoos inked by Kay Zahn
dxstewart
Dec 10, 11:29 AM
Thought I'd get into the holiday spirit with mine this month. :) Found here (http://www.totalwallpapers.com/cartoons/wallpapers/jack-skellington-christmas.jpg).

http://www.totalwallpapers.com/cartoons/wallpapers/jack-skellington-christmas.jpg
---
more...
Candy Mermaid Tattoo Idea,
spaceballl
Jun 15, 09:34 AM
WOOOHOOO! (http://www.crazyhawt.com/2009/06/15/my-iphone-3g-s-has-shipped/)
---
both have mermaid tattoos,
---
more...
mermaid tattoo
Fourth gen wasn't. None of them were. HP were very briefly licensed and were co-branding 3rd gens but that ended very quickly.
---
Mermaid Tattoo Design For
Any 1080p television worth anything can easily deinterlace the 1080i signal from the Toshiba HD DVD player with zero image degradation. There simply is no difference. The 1080p vs. 1080i thing (for HD DVD and BD) is a myth.

First, I mentioned that the outputting problem is common with both formats the existing HD-DVD AND Blu-Ray decks currently on the market because the decoder chip is just not that great. That is why people are making a big deal about the upcoming Sigma Designs decoder chip that will come standard in both formats' second generation machines. Look it up.

And deinterlacing an input signal is not as good as the outputting device outputting in progressive scan in the first place. Do you want to argue that upscaling DVD players are just as good as the current HD formats while you are at it?

Sony has not stated any plan to use H.264 encoding. No studio has stated any plans for H.264 encoding either. It's either MPEG-2 vs. VC-1, and if you've watched anything on HD DVD, you'd know it's capable of amazing results. Compared to all available Blu-Ray discs, VC-1 beats MPEG-2. A better Blu-ray deck will not make the crappy MPEG-2 discs look better, because the problem is with the disc, not the player. Even when BD50 discs are viable (some day!), they'll still use MPEG-2. Warner, who has already released VC-1 encoded HD DVDs, will be releasing the same titles on BD in... you guessed it... MPEG-2.

Nobody is arguing that VC-1 does not outperform MPEG2. However, it is nowhere near as good as H.264 MPEG4. We know it, the SMPTE knows it, and of course in their dark hearts, Microsoft knows it too. The problem currently is that the machines on the market do not have good enough decoder chips - again, referencing the problems that will be solved with the Sigma chip hits the market - to decode the H.264 codec. But once the good chips hit the market, it is doubtful that the HD-DVD format will ever back H.264 because that would cheese off Microsoft. And the success of VC-1 and iHD is crucial to Microsoft's entertainment expansion plans. If HD-DVD dies, Microsoft loses out on both VC-1 royalities as well as iHD licensing and places the Xbox360 ultimately at a competitive disadvantage.

Just because Sony hasn't announced H.264 support does not add up to much. They don't even have their own player on the market yet. And until then - as well as the PS3 launch - I doubt they will announce support. After all, currently, Sony is only interested in Blu-Ray being viable for upcoming consumers; they really do not want us buying the Samsung player currently. So no, I (also) highly doubt your assertion that Sony will still cling to MPEG2 when the higher capacity discs hit the market. Furthermore, Sony already uses H.264 on their PSP UMD titles. Obviously, the reason why they haven't done likewise on Blu-Ray discs has to do with the decoder chips, not due to any sort of conspiracy or incompetence factor that you seem to be asserting.

http://en.wikipedia.org/wiki/Universal_Media_Disc

Based upon the info on that link, it is apparent that Sony is no stranger to encoding using H.264 and thus there is no logical reason to conclude that Sony won't shift to using H.264 on all of their Blu-Ray titles once their own players and the PS3 ships.

As for Warner Home Video, they have a vested interest in making sure Blu-Ray does not succeed. Warner and Toshiba both make quite a sizeable fortune off the royalties from the DVD standard. They both want HD-DVD to succeed so they can maintain those royalities. Had Sony and the rest of the Blu-Ray Disc Association agreed to preserving the Warner/Toshiba royalities, there would not be a format war currently, and Toshiba would not have prostituted itself to Microsoft over iHD and VC-1.

Furthermore, iHD is apparently much easier to develop for than BD-J. That's one reason why there are already HD DVDs with interesting new features (like the "In Movie Experience" on Bourne Supremacy) vs. no new extra features for any BD discs, nor are there any discs announced with new (BD-J) features.

Can any other posters shill the Microsoft party line more? "They" said the Sony Playstation2 was "too hard" to program for versus programming for the Microsoft Xbox. Which platform won again? Which platform had the most third-party support? That's right, the "too hard to program for" Playstation2. The reason why there are extra features on the current HD-DVD titles has to do with the fact that they are using VC-1 and the Blu-Ray titles are using the space-hungry MPEG2 codec currently. There's no room right now on Blu-Ray releases for the "extras" you are bringing up. It has nothing to do with "how hard" it is to program BD-J.

Reminds me of how Warner Bros. people started the whole "Brandon Routh is so well endowed that special effects are having to be used to tone down his crotch for *Superman Returns*" rumor that was circulating in the trades and online months before the film debuted. It was a recycled rumor that Warners had used back before the release of the original *Superman* with Christopher Reeve to generate buzz for potential female viewers. Kinda like how you are recycling/repeating the "BD-J is too hard to program for" rumor.

Let us also remember that Apple sits on the Blu-Ray Disc Association board. They could have supported either format, but they chose Blu-Ray for some reason...hmmm... Kinda like how they chose Dolby's AAC format as their "next generation" audio codec instead of Microsoft's (tin can sounding) WMA audio format. That speaks volumes.
---
more...
old school mermaid in
....What I want to know is how exactly you expect businesses to grow jobs, expand operations, etc. in this type of situation. It seems fairly clear based on the facts that A) this wouldn't be near enough money to solve the problem B)that the end result in the long run will almost certainly be less growth, fewer jobs, and less government 'revenue' than before. C) that you'd kill what chance we have left at regaining a strong economy as large businesses would do whatever they could to get their assets in locations of lower tax burden.


You're mixing income tax with corporate or business taxes. I know that some small businesses mix the two, but most keep these incomes separate. With this in mind, how would a tax increase on the top one percent or 25 percent hurt businesses?

You indicated that the rich weren't paying their 'fair share.' I responded by pointing out that the top 50% of wage earners pay 95% of the tax burden. ...

Can you point me to a time in history where lower taxes led to more growth?...

...If 90 people make $1,000 each, and 10 people make $50,000 each and they were evenly taxed on income, you'd still have 10% of the people paying 84.7% of the taxes. Is that unfair? No, it's not. Not in the slightest. And once you take out even a basic cost-of-living exemption, which should be the start of any tax system, that number would increase dramatically. Like, just over 95% maybe?

Fivepoint, can you address both of these questions?

The second is a good metaphor for taxation, those who hold the most wealth should also pay the highest taxes and will, as a consequence of basic math, pay a larger percentage of their income. This is 'fair' in a progressive system.

Also, while I agree that the deficit needs to be dealt with, I'm concerned that a breakneck reaction will cause more harm than it's worth. If your check oil light comes on, you don't immediately slam on the breaks and abandon the car in the weeds. Rather, you calmly slow down, pull over, access the fluids, and make new decisions.
---
Girls Mermaid Tattoo Designs
I'm on a Core i7 860 @ 2.8GHz 8GB mem running Windows 7.

I'm 9% through my first task running on a single core. (I'll figure out how to use more cores later...)

You'll have to speed up your CPU more (ie overclock) in order to deliver results faster and get a higher PPD rating.

Also, which client did you download or are you using the Command Prompt? If you are using the command prompt, write the following:

-smp 6 -bigadv -verbosity 9 -local

This will dedicate 6 of your 8 threads to the Folding. Editing how many threads you dedicate can be done by upping or lowering the number after -smp
---
more...
Asia tattoos-Mermaid tattoo
hypmatize
Apr 23, 03:10 AM
Whats that facebook app you have up top?

It's called facebox (http://lifehacker.com/#!5791695/facebox-puts-facebook-in-your-mac-os-x-menubar)
---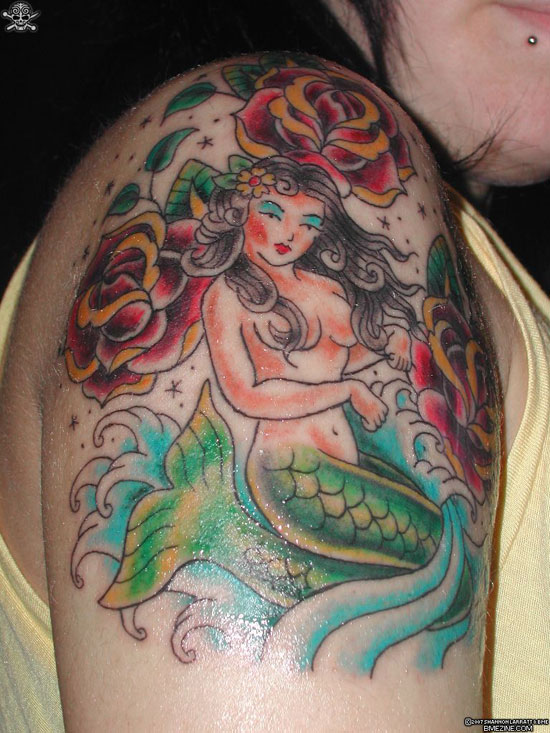 hawaiian mermaid tattoo
AndrewR23
Mar 27, 08:48 PM
Funny how NC law forbids the sale of handguns to anyone under 21, but you're 21 and you already have 2 expensive guns (and the iPhone you took the photo with). And yet you have to run a racket to be able afford a guitar.



Its really him. Just got this message


LOL Age has nothing to do with knowledge and/or wisdom. I will challenge your ability to reason any day you want and I will win. I love making a mockery of elderly people who think they're intelligent. :P

Thanks for the forum topic lol I'm laughing so hard...

- stratocasterdan

edit. I hope 27 isnt elderly otherwise I'm old!
---
more...
Mermaid Tattoos Designs For
please please please let it be for some dropbox like service (or even better - apple should purchase dropbox and integrate it into Lion)
---
Mermaid Tattoos
johneaston
May 2, 05:01 PM
I'd love to, but in the UK, gay men's blood isn't welcome.
---
Fantasy Mermaid tattoos
I changed to this desktop on my 13" MBA the other day and thought I'd share. :)
---
Wirelessly posted (Mozilla/5.0 (iPhone; U; CPU iPhone OS 4_3_2 like Mac OS X; en-us) AppleWebKit/533.17.9 (KHTML, like Gecko) Mobile/8H7)

Perfect. Decide to sue, THEN figure out why. It's the new tit for tat, only we pay for it.
---
LimeiBook86
Dec 14, 10:00 PM
That's a cute style, very, very awesome! :D
---
Hook'Em2006
Apr 1, 08:35 AM
Candace Swanepoel
---
If you have a 4g iPhone for sale pm me or post please :)
---
Lord Blackadder
Jan 20, 01:42 PM
The Golf GTD is brilliant... I think it's a better everyday car than the GTI, I test drove one (no intention of buying, but something to do on a Sunday afternoon) and its in-gear performance is proper... :eek: And it's far more sophisticated looking than the GTI too.

That said, it's a shame that VW haven't launched a Polo GTD... yet, IMHO the Polo GTI is the true spiritual successor to the MK I Golf GTI, more compact, lighter with an absolute peach of an engine... a GTD would offer comparable performance, but with extraordinary fuel efficiency. :eek: The Polo's better looking too... ;)

If the GTD was available in North America, it would be my first choice for a new car. I think the GTD is the kind of car I've been waiting for someone to build for years. Too bad it will never, ever come here. :(

I agree with you on the Polo. Frankly VW could really hit the ground running in the small car race here in the states if they federalized the Polo. It's fuel economy numbers would compete well with the hybrids, and it's simpler and cheaper. But, as I posted at the beginning of this thread, VW's strategy is focused in a totally different direction. VW seems to be gambling that the small car/hybrid craze in the US is a short-term fad, and that once the economy improves people will go back to wanting big, cheap cars. That's especially depressing considering that VW is the only manufacturer in the US who sells reasonably priced diesel cars, and one of the few (the only?) that has always kept a small hatch in the lineup.


I simply don't agree with this at all. You're basically saying that the Altima's 4 banger is inefficient which couldn't be further from the truth. I can drive to Phoenix, AZ from San Diego, CA - a distance of ~500 miles - on half a tank.

Frankly I'm skeptical. I owned a 1999 Altima GXE with a manual transmition. Great great car for what it was. I'd still be driving it if some drunken moron in a truck hadn't totaled it. Anyways, my Altima was equipped with a different engine (KA24DE 4-cylinder, 2.4L) but was about the same size as your engine. It weighed slightly less, about 250lbs or so. Under normal driving conditions I could manage 30-31mpg combined cycle. On the highway, if I kept the speed down, I could do 35mpg (my best numbers were from a 360 mile trip @60mph - 39.5mpg). I had a 15.9 gallon tank, which meant I could get just about 500 miles on a tank of gas (I was brave once and drove 492 miles on one tank before I chickened out).

I don't know which year Altima you have, but you have a 20 gallon fuel tank and depending on what year, your EPA mileage is between 20-23 city and 27-32 highway. I'll grant you the 32mpg number because my Altima did better than the EPA numbers. 32mpg will get you 320 miles on half a tank. Heck, I'll even give you my best 39.5mpg number - but that still only gets you 395 miles on half a tank. In order to go 500 miles on half a tank of gas, you'd have to be getting 50mpg. And I don't believe that. I don't know of a single gasoline-powered car that can go 1000 miles on one full tank.

The Altima's engine is not particularly inefficient, but the car weighs 3000lbs. A smaller car with a smaller engine has the potential to get better fuel economy.

I don't call that inefficient at all, especially since I know for a fact that a Prius can't do that. Also the Versa's engine is a 2.0 which should be less powerful but in theory more efficient than the Altima, except for aerodynamics. It's just not. The only advantage the Versa has over the Altima is the interior roof trim - it really does cut wind noise better than the Altima. Beyond that, the Versa is an overpriced piece of crap, quite frankly.

I've never driven one, so I can't say one way or the other. It's 400+lbs lighter than the Altima, probably less aerodynamic, and the 1.8L engine has 50ish less horsepower.

But it's not all small cars in the US that suck. Honda and Acura have been making efficient small cars for years. I don't agree that the small car market is ignored - rather, it's not focused on. Diesel, in my opinion, is a failed market out here. Great concept, but there just isn't enough steam behind it. I applaud Volkswagen for trying. But the reality is that everyone has it wrong. The answer isn't petrol because it's limited, it isn't electric because capacity is at a premium, and it isn't hybrid because the cost is prohibitive. The answer lies in the very thing that surrounds us constantly. I'm afraid I just won't be alive to see people realize it.

The thing is, diesel isn't just a great concept - it's every bit as proven as gasoline-engined cars. It's been in use for over 100 years.

Buy the way, the 2007 Civic's real-world mileage is no better than my 1999 Altima's was, so I don't think Honda has a lockdown on fuel economy. I find it odd that you don't seem to think size has any effect on fuel economy. Some small cars are probably less efficient than they could be, but a larger car is always going to be potentially less efficient.
---